Saiyan Transformations
There are several Saiyan transformation lines in the series, which are: the Great Ape line, the Super Saiyan line, and the Super Saiyan God line. Additionally, some forms can be mixed together to make new transformations.
Great Ape Line
Great Ape (大おお猿ざる Ōzaru, lit. "Great Monkey") is a giant, anthropomorphic, monkey-like creature that Saiyans can transform into at the full moon to increase their already formidable strength tremendously
The Great Ape is one of the most common transformations seen used by pure Saiyans. This form is only accessible if the Saiyan has a tail. While in the form of a Great Ape, if the tail is cut off, the Saiyan returns to his/her normal state. This transformation is triggered by when Blutz Waves are transferred to the Saiyan. The most common supply of Blutz Waves are given from a Full Moon. If there is no moon available, a Saiyan may use a Power Ball. The Power Ball emits Blutz Waves used to activate the transformation. Once transformed, the Great Ape's power and strength are increased 250% from the base form. If just started with this transformation, the Great Ape may go into a rampage. This form had been rendered obsolete ever since the remaining pure-blooded Saiyans transformed into Super Saiyans whose power increased by 5x-fold, grossly outclassing the Great Ape's 2.5x-fold. A Great Ape who transforms into a Super Saiyan becomes a Golden Great Ape, which is the key to attaining the Super Saiyan 4 transformation.
The color for the Great Ape's fur is usually brown and eyes are red as well. A Saiyan loses the ability to reason in this form, and will typically display berserk and destructive characteristics, even in the cases of protagonists. To quote Yamcha, "When Goku transforms like that, he loses all sense of himself. He's just a big hairy ape with a sweet tooth for ripping people's limbs off." However, they can still seem to regain some sense of friend and foe deep within their subconscious, as has been demonstrated when Goku was able to get Great Ape Gohan to attack Vegeta. Krillin theorized that half-earthling Saiyans that have transformed retain their human mind, enabling their loved ones to break through to them.
Despite the lack of self-awareness, as Saiyans mature, they can potentially be taught how to reign in their instincts and retain normal cognitive functions as Great Apes.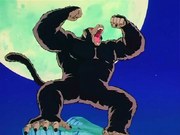 https://vignette.wikia.nocookie.net/dragonball/images/f/f4/GreatApe6.png/revision/latest/scale-to-width-down/133?cb=20101111134327
Super Saiyan
A Super Saiyan is a legendary transformation of legend in the Saiyan race. Only a select few of the Saiyans have been able to achieve this rare form. In legend, a Super Saiyan is a warrior pure of heart and awakened by fury. The first Saiyan in centuries to achieve this form was Goku, after seeing Krillin's death at the hands of Frieza. In this transformation, the hair raises and turns a golden color and the eye color turns blue-green.
Super Saiyan Two
There are four ways to achieve this transformation, a requirement for all four is that the Saiyan must first gain a large quantity of energy (usually by training), far beyond that required for the first Super Saiyan form. The first method is that the Saiyan must experience a powerful emotional upheaval, much like the Super Saiyan transformation, but to a greater extent. Because of the intense emotion required to initiate the transformation, any mastery of the Super Saiyan state and mental stability attained therein is negated, and the naturally remorseless nature of the Saiyan race is magnified, requiring them to master the personality adaptations to an even higher degree. Even Gohan with a gentle and docile personality became a hotheaded, merciless fighter after transforming, opting to torture Cell rather than kill him.
The golden hair brought on by the original transformation becomes longer and rigid and stands up even more. Some users like Gohan, Goku, Vegito, and Bardock lose a few strands of hair. Increased energy radiation causes the aura to take on a jagged, fierce flame-like appearance rather than smooth or flowing. Because the energy output and radiation are higher than that of a Super Saiyan, the aura pulses at a higher frequency. Muscle mass is barely increased, but energy output is multiplied by more than the regular Super Saiyan transformation; such that greater amounts of the Saiyan's increased energy reserves can be used at once for much more powerful energy attacks without the onset of exhaustion later. Even speed is increased proportionally.
Super Saiyan Three
Super Saiyan 3 (超スーパーサイヤ人じん3スリー Sūpā Saiya-jin Surī) is the third form of Super Saiyan and the successor to the second transformation. This form extracts every drop of potential from a Saiyan's blood. Goku was the first to achieve the form and was able to do so after several years of vigorous training in Other World. Gotenks later achieves this form through the power of Trunks and Goten's fusion and Goku's example
Super Saiyan Four
Super Saiyan Four Full Power
Great Ape Line
Great Ape Line
Super Saiyan God Line
Frost Clan Transformations
{WIP}
Demon Transformations
{WIP}
{WIP}
{WIP}